Pionite HPL High Pressure Laminate Sheets Panolam Color Charts
DSI is a Pionite HPL Laminate Panolam authorized dealer to commercial millworkers, architectural millwork, retail display, furniture craftsmen and other woodworkers ONLY to customers in DSI Columbus & DSI Indianapolis.
DSI is the easiest way to browse Pionite HPL Solid Color Swatches Online. you can also view Pionite Woodgrains, Abstract Patterns, Pionite Stone & Granite And Pionite Panolam Finishes. We are the area's only officially authorized Pionite supplier in regions that include Columbus and Western Ohio, Indianapolis and most of the State of Indiana south of Fort Wayne. DSI warehouses a large inventory of Pionite HPL laminate, meaning we can delivery a huge selection of commodity colors, solid colors quickly to your shop.

Pionite Brand High Pressure Laminate (HPL) products are manufactured under extreme pressure to deliver a decorative surface that is strong and durable, yet flexible and easy to fabricate. Pionite HPL from Panolam is among the most versatile surfaces, making it a great choice for a range of interior horizontal and vertical applications where an attractive, yet resilient, surface solution is required.

Pionite FRL® Fiber Reinforced Laminate uses patented fiberglass technology to fortify wall panels against impact damage and excessive wear-and-tear. Given long-lasting durability, along with its unrivaled ease of application and job-site workability, FRL® is the ideal wall panel for high-traffic environments that need to be aesthetically pleasing and easy to maintain.

Pionite ThruColor™ High Pressure Laminate (HPL) may be used in any application where a solid color edge is desired. ThruColor™ HPL is intended for use in applications where the edge of the laminate contributes to the aesthetics of the final product.

Pionite ThickLam™ Thick Phenolic is designed for applications where the decorative surface must contribute to the structural stability of the finished assembly. It is available with decorative paper on one or both sides.
Don't see what you're looking for? Contact DSI's inside sales team at 800-745-1778 for additional product options. DSI also has experienced Architectural Specification Reps. that can get you samples, additional product information and answer any specification questions.
Pionite HPL Laminate Online Ordering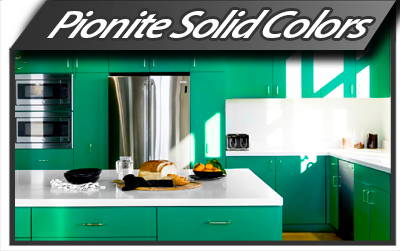 Pionite Solid Colors and Commodity Laminates
DSI stocks a wide variety of Pionite HLP laminate sheets. Pionite HPL solids come in 50 different varieties of commodity and bright, vibrant colors of high pressure laminate.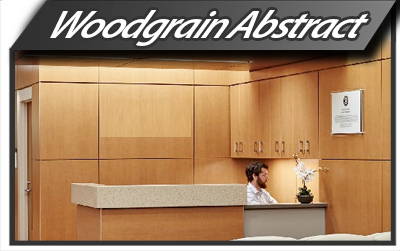 Pionite Woodgrains/Patterns
Pionite HPL Woodgrains and Patterns
DSI has a large, in-stock inventory of Pionite HPL Laminate Woodgrains and on-trend patterns. Pionite has a large selection of wood grains, metals and other patterns that are available in a variety of natural and abstract finishes.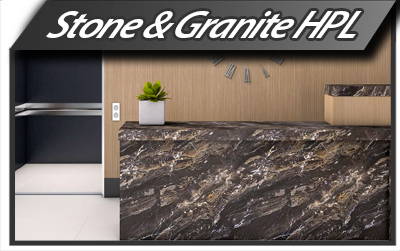 Pionite Natural Stone & Granite
Pionite Natural Stone & Granite HPL Collection
DSI stocks a wide selection of Pionite HPL natural granite and stone laminates. Pionite Brand's stone and granite patterns feature a rich mixture of classic granite patterns and trending stone face surfaces.
Let DSI's Lamination Line Lay-Up Your Pionite HPL Panels
Not only is "do-it-yourself" panel lamination with contact adhesive time consuming and expensive, you may be disappointed with the results.
DSI has a state-of-the-art production line that does beautiful work laminating Formica Brand high pressure laminates and surfacing materials to a wide variety of substrates. Plus, there are short lead times and low minimums.
We'll cut your costs and simplify the panel lamination process by doing the labor for you. DSI quickly delivers the laminated substrates you need to meet your customers' demands.
Contact your DSI rep at 800-745-1778 or sales@maildsi.com for price quotes and lead times.
DSI's Lamination Line in Action