Avonite Acrylic Solid Surfaces Aristech STUDIO Collection Design Resin Countertops Sinks Wet Walls Colors
DSI ONLY delivers Avonite Solid Surfaces, Aristech Studio Collection Design Resin and Sinks, Bowls, Wet Walls and Shower Pans to commercial millworkers, architectural millwork, retail display, furniture craftsmen and other woodworkers throughout eight regional territories. DSI Pittsburgh, DSI Cleveland, DSI Millersburg, DSI Columbus, DSI Cincinnati, DSI Detroit, DSI Louisville and DSI Indianapolis.

Avonite Solid Surface from Aristech is used for everything from kitchen countertops to retail displays, hospital bathrooms, showers and much, much more. Avonite is a trend-setting polyester and acrylic-based designs and colors, coupled with peerless quality, durability and performance. The Avonite Surfaces Studio Collection is a specialty material unmatched made from a proprietary resin blend. It is thermoformable, durable, safe, and repairable.

Avonite's Shower Systems and Wet Walls give you the perfect solution for your bathroom design projects. When you choose our highly customizable shower bases paired with our Wet Wall panel system, you get flexibility and performance.

Avonite provides sinks and bowls with the nicest finish in the business, that are flat and true, and ready to install with locator marks. Avonite makes fabricators' jobs easier with contemporary designs, commercial and universal designs, as well as help with recommended router bit information, DXF cutout information, and location for ADA design help.

Avonite Aristech Solid Surface Online Ordering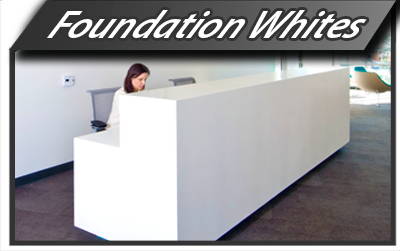 Avonite Fundamental Whites Solid surfaces
Solid Surface Fabricators looking for standard whites for counter tops, reception desks, sink bases and other common uses can select from a variety of colors and styles. From Bone, Ivory, Polaris and Standard White, Avonite has colors that match all of the top competitors. It is easy and cost effective to pick matching Avonite whites to meet the needs of specifications.
Avonite 100% Acrylics Info
Avonite 100% Acrylic Solid Surfaces
Avonite 100% Acrylic Solid Surfaces come in a broad palette of colors and designs for every project. They can be used in vertical or horizontal applications, applied in straight or curved lines, or thermoformed into a myriad of shapes. Avonite is great alternative to higher-cost surfaces like concrete, glass & other resins.
Aristech Studio Collection Resin Blend Surfaces
The Studio Collection is crafted from a proprietary resin blend, this premier design line stands out from other surface choices due to its unique combination of transparent, translucent and opaque polymers blended to create an endless world of fabrication and design possibilities.
Avonite Sinks, Bowls & Shower Bases
Avonite Surfaces® offers an efficient range of kitchen sinks, bathroom vanities, and shower bases for all types of commercial or residential uses. They come in in multiple shapes: oval, square, rectangular or curved. Featuring classic, timeless models for installations in a style that lasts, the collection embodies simple, clean decor.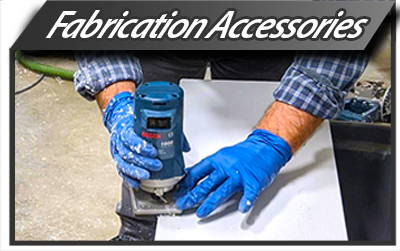 Avonite Miscellaneous Solid Surface Fabrication Accessories
Avonite Solid Surface Fabricators can purchase a variety of miscellaneous accessories including adhesive cartridges, mixing tips, dry cut finish systems, manual adhesive guns, buffing pads and more.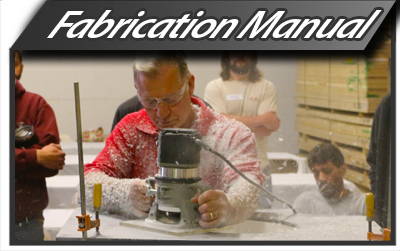 Solid Surface Fabrication
Avonite Solid Surface Fabrication Guide
This fabrication manual has been produced to assist the Avonite Solid Surface fabricator and installer in methods of seaming, polishing and handling the Avonite Solid Surface product.
---
Want to Become a Certified Solid Surface Fabricator?
Whether you're an experienced Solid Surface Fabricator, or you'd like to become one, DSI & Avonite's occasionally offer a FREE Training & Certification Workshop that may be ideal for you and your shop.

This free seminar is taught by experienced Avonite Technical Service Reps. Once you become certified, you'll be included on the DSI/Aristech list of preferred fabricators. The list is used to recommend certified fabricators to general contractors, designers, and architects. Contact your DSI branch manger to see if there is a Solid Surface Fabrication Seminar near you.